Hi I'm Lisa, and I'm the owner of Wheaten Terrier Images.
I fell in love with wheatens in 1980. I was at Blackpool Championship Show when I saw a hairy beast walking towards me - this was Benji who was the only wheaten at the show & it was instant love. At the time I was showing Cairn Terriers, but swore my next breed would be a wheaten. Every show I went to, I would hang around the wheaten ring & pick the brains of the breeders, who put up with all my questions, and general stalking. In 1985 I was lucky enough to become the extremely proud owner of my 1st wheaten - Meg. I have been owned by wheatens ever since, presently being owned by Peggy & Eadee, who are my heart & soul, and in typical wheaten style, absolutely live life to the full.
After leaving school I took up photography, in the good old days of the dark room, I then took a break, and concentrated on showing and breeding the occasional litter. I took up photography again in 2010 embracing the digital world of dslr cameras. After joining a local club, getting involved in photography competitions, and to my amazement, becoming a worldwide award winning photographer. I then decided to combine my two loves of wheatens & photography. Initially photographing at dog shows, when time allowed, under my kennel name Braemuelin SCWT Photography, which can be seen here:-
https://www.braemuelinscwt-photography.co.uk/
I've always enjoyed art & being creatived, so combined with the photography, this then has led on to the birth of Wheaten Terrier Images. All the images created are of real wheatens, mostly taken from my own photographs, or from owners who have very kindly allowed me to use their photographs wether they be digitally created or fine art images, to whom I'm very grateful.
I hope you enjoy looking at my images & products which are all handmade. If at any time you would like to see a particular product, then please do not hesitate to contact me & I will do my best to source any blanks if possible.
Take care and keep safe, Lisa, Peggy & Eadee xxx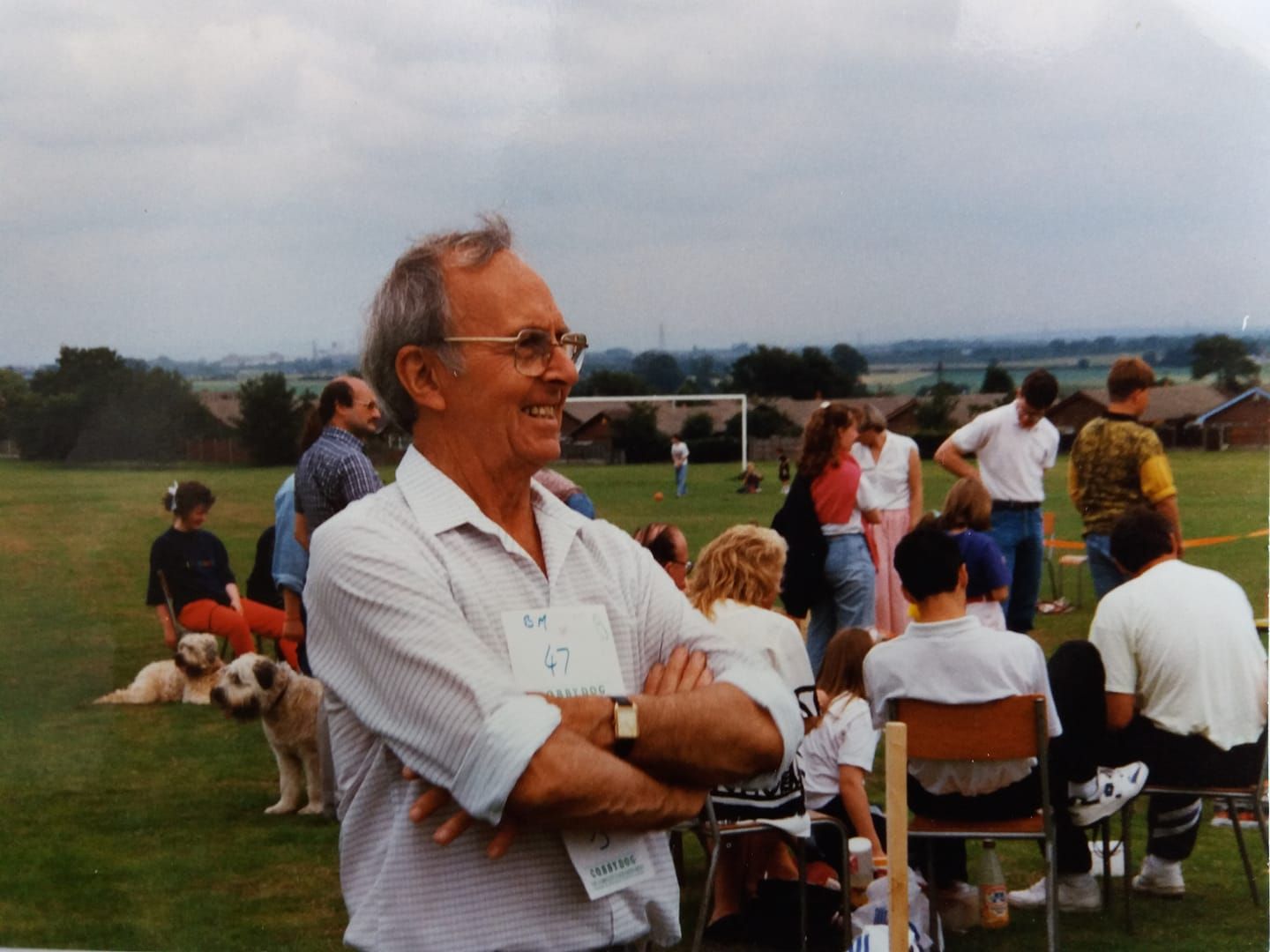 I dedicate Wheaten Terrier Images and this brand new website, to my dad (our Tommy) who I lost on 30th July 2014. I miss him just as much today as I did when he passed. But today I want to celebrate his life by launching the website, so it makes for a day of reflection & celebration, rather than a sad day.
He would have been so proud of all I've achieved, and did achieve whilst he was still here to see, not only with the dogs in the show ring, but also my photographic achievements. He absolutely loved wheatens, and so enjoyed being part of dog world, especially the wheaten world. This is one of my favourite photos of him at one of the early Midway Wheaten Days, which he helped us set up, especially putting road signs up & loved nothing more than being in the thick of things, meeting old & new friends, but especially the dogs, so wish he could have met Peggy & Eadee, I'm sure they'd have got up to mischief & plenty of adventures together xxx